Sally:
Manchester
I just wanted to say I loved my bracelet, this is something I know I will wear for a long time it is gorgeous and I intend to wear it every day. Thanks again.
Dawn:
Cheshire
Was lovely to see you at Cheshire County Show, Thanks for my necklace and bracelet. All my mates are jealous and I'll definitely be sending them your way. I'm still amazed by the quality of your braid, its beautiful.
Louise:
Lancashire
Hi Sarah, I received the bracelet today and its perfect. I have waited 11 years and its been worth every second. Thank you so much.
Jaimie:
Halifax
When I received my bracelets they were just what I hoped for thank you so much!!!
Susan:
Lancashire
Thank you so much for my bracelets they are beautiful.
Michelle:
Wales
When my daughter opened her bracelet she absolutely loved it, thank you so much.
Debbie:
Yorkshire
"A beautiful bracelet to remember my beautiful Frankie. The quality of this bespoke hand made jewellery is superb, I would recommend Sarah-Jayne (Tails of the unexpected) to anyone looking for something unique and extra special."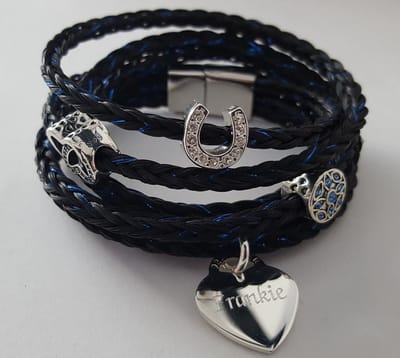 Pia:
Goole
The bracelets have arrived yesterday! They are soooo wonderfully gorgeous! I am so pleased with them! You have plaited it so well, it is absolutely perfect! THANK YOU! I am also pleased with the discount as I would like to order a bracelet for my daughter in the near future. I will show my bracelets off to my friends and do some advertising for you! The little trinkets are also such special little keep-sakes. I shall treasure them all Thanks again for your impeccable work!
Caroline:
Chesterfield
I can't thank you enough for the beautiful bracelet you've made with star's hair, it's absolutely beautiful, more tears when I saw it.
Claire:
Cambridge
Thank you so much my son loves it.
Mary:
Northern Ireland
I bought a bracelet for my sister who recently lost her horse, she was made up with it and I just wanted to say a huge thank you for all your time and effort. The bracelet is beautiful.
Janet:
Greater Manchester
Very good quality items, professional service and great value for money. Didn't have to wait long for delivery. Thanks again
Christine:
Hemel Hempstead
I have just had a bracelet made for my daughters horse we sadly lost a few years ago. I am very pleased with the quality and the service I received. The care taken and the instructions were easy and clear. There was great communication through it all. Thank you so much for our wonderful keepsake.
Wendy:
London
OMG what can i say....i love it. I loved my little Harry so much and still grieve his loss, but i will wear my bracelet with pride. The craftsmanship is phenomenal and you did him proud. As you know i had my reservations at first, as i was scared about parting with his hair and what the end result may look like, but i can honestly say I am blown away not only with the quality but also the care and time you took to re-assure me that part of my little boy had arrived safely and keep me informed every step of the way. So to anyone out there who is reading this and may have reservations, you will not find a better service out there. I am so glad i finally have something so beautiful to remember my beloved Harry. I can not thank you enough.
Paul:
Newcastle
Thanks a lot for my wristband, what a way to remember winning my first ever competition, its mint. Cheers Paul
Helen:
Durham
My husband loved his cuff links - it made for a very happy wedding anniversary. Thanks for everything
Alison:
Fleet
I just received the bracelets they are absolutely beautiful, my daughter and her friend will be so pleased with them.
Sandra:
Dumfries
Just a note to say thankyou for the items I received they are lovely,I am sure my daughter will be over whelmed with them, and treasure them for ever, Great service I will recommend you to my friends.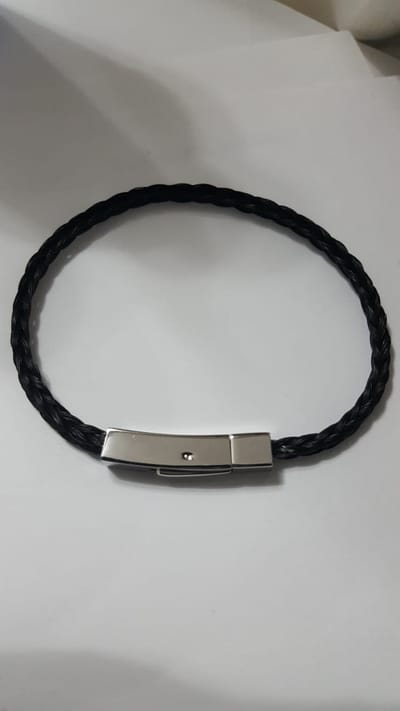 Nicola:
Stockport
We have had 3 beautiful bracelets made in memory of our beautiful horse Cheska who we sadly lost. What a gorgeous way to remember her and they are so beautifully done. You can tell they're done with care and love. They're truly amazing and now I carry Cheska wherever I go. We have chosen three relevant charms to go on each bracelet, one being her birthstone. They come beautifully presented in a little box. I highly recommend Tails of the Unexpected. Thank you for helping us remember our girl this way xxx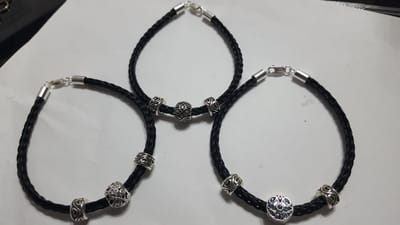 Louise:
Just wanted to say thank you so much for the fantastic bracelets you created for me . All 3 of my girls were absolutely delighted with them on Christmas morning and haven't taken them off since . Many people have also commented on them and asked where we got them from . Thanks once again and also for turning them round for me in the short space of time i gave you .
Sarah:
Loughborough
Love the bracelet, it's gorgeous.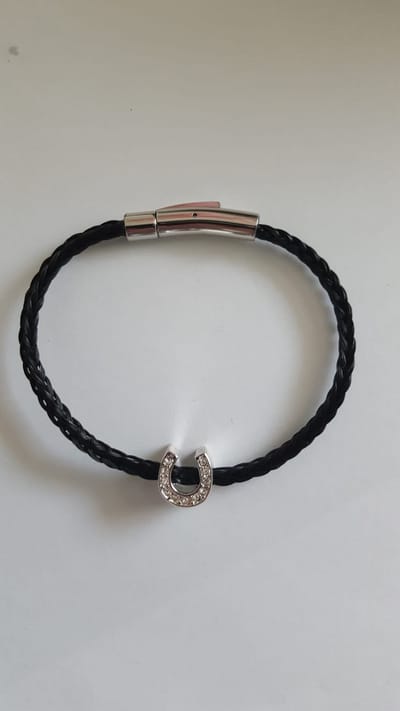 Stephen:
Gainsborough
Just wanted to say that my Mrs loves her bracelet and is over the moon that she has a part of her horse with her now. Thank you.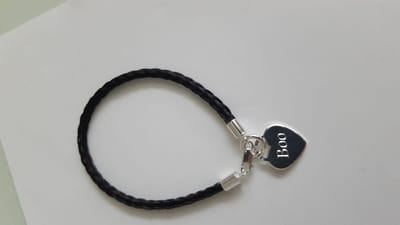 Megg:
Scotland
Its perfect thanks so much
Neil:
Dublin
I'm so impressed by the quality, thanks so much